Wheel Balancers by Hunter
Easy to use, accurate and speed are key features of the latest wheel balancers from Hunter. In your busy, fix-it-fast world, auto shop owners need repair equipment that is easy to use and easy to learn. Hunter wheel balancers give you quick and accurate results and get customers back up and running fast. Call Total Tool for all your Hunter wheel balancers and accessories. Watch this video and see how Hunter wheel balancers can make a difference in your auto repair productivity.
Road Force® Elite
The Road Force® Elite wheel balancer delivers exceptional balancing service and performs a Road Force® and balance faster than a traditional wheel balance. The Road Force® Elite solves wheel vibration problems that traditional wheel balancers can't fix. This machine detects non-balance, radial-force related problems associated with tire uniformity, tire and rim runout, wheel to balancer mounting errors and improper bead seat of tire to rim.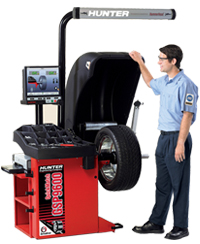 GSP9600 QuickMatch® Wheel Balancer
The Hunter GSP9600 QuickMatch® wheel balancer uses loaded roller contact to measure runout (eccentricity) of a tire and wheel assembly and helps your shop eliminate wheel-related vibration. Includes SmartWeight® balancing technology.
Now with integrated TPMSpecs™
(Shown with optional HammerHead™ feature)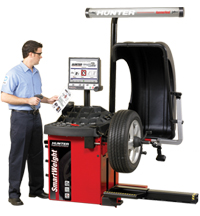 SmartWeight® Wheel Balancer
Hunter's SmartWeight wheel balancer is a high-capacity wheel balancer with unmatched features. Engineered to save money and increase productivity with the revolutionary SmartWeight balancing technology, this wheel balancer now also includes concise TPMS data and procedures available from the wheel balancer.
(Shown with optional HammerHead™ feature and optional lift)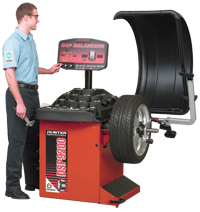 DSP9200 Wheel Balancer
The Hunter DSP9200 Digital Signal Processor Wheel Balancer is a wheel balancer that combines standard balancing methods with Hunter exclusive or patented features, such as:
Speed wheel data entry and weight placement while increasing accuracy and allowing more single-spin balances
Inner Dataset Arm determines exact weight placement
ServoDrive programmable DC drive system for the fast possible balance service and automatic positioning of the wheel for weight placement.
Offers multiple weight choices
Automatically locates the best out-of-sight position on custom wheels
Balancer tells you if the wheel is properly centered before you proceed with the work
Eliminates the #1 cause of comebacks
Automatically takes up any unused spindle threads
Eliminates wing nut hand cranking
Foot pedal brake activates entry and storage of wheel data
Foot pedal locks spindle for easy tightening and loosening of wing nut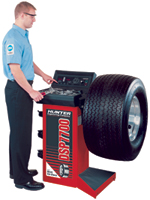 DSP7700 Wheel Balancer
The most rugged of all compact balancers, the DSP7700 wheel balancer is perfect for the quality conscious, yet economically oriented shop, with a lower volume of service. This compact balancer features heavy-duty components that enable even 150 lb. (68 kg) wheels to be spun repeatedly without overheating.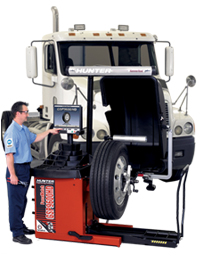 GSP9600HD ForceMatch® Heavy-Duty Wheel Balancer
With Hunter's ForceMatch wheel balancer, technicians match dual wheels and drive tires on common axles with similar diameter assemblies to improve tire life and prevent uneven wearing and damage. The GSP9600HD wheel balancer can handle large truck and bus wheels up to 52" diameter and most passenger cars and light trucks wheels, making it one of the most versatile wheel balancers on the market. Includes SmartWeight® balancing technology. (Shown with optional HammerHead™ feature)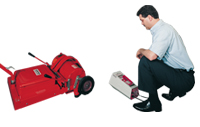 Strobe Wheel Balancing System for Heavy-Duty Trucks, Buses and Passenger Cars
Quick, precise on-the-vehicle balancing helps increase profits and reduce customer comebacks.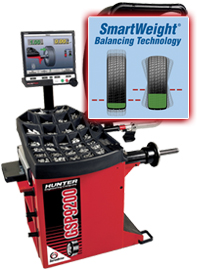 SmartWeight® Balancing Technology

Improves profit margins by reducing wheel weight usage and costs
Speeds balancing procedures by reducing check spins and "weight chasing"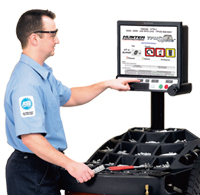 TPMSpecs™ Database
Concise TPMS Data and Procedures Available at the Balancer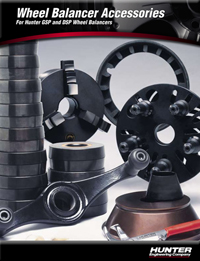 Wheel Balancer Accessories

For Hunter GSP and DSP Wheel Balancers.