Lift Inspection for Automotive Lifts — ALI Certified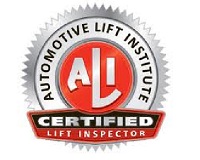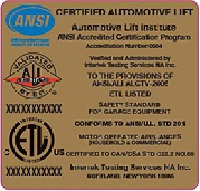 ALI – Automotive Lift Inspection, Operation & Maintenance
When's the last time you had your required ANSI/ALI ALOIM lift safety inspection performed?
Total Tool is a certified Automotive Lift Inspector
Total Tool provides all the required inspections, services and documentation to keep you and your shop in complete compliance with these requirements.
Keep yourself and your shop free from fines and citations.
Provide a safer work environment for you and all your employees.
Keep your major investment in lifting equipment working better, longer.
Call Total Tool today for an appointment with our ALI CERTIFIED lift inspector! (800) 677-8685
ABOUT ALI
Founded in 1945, the Automotive Lift Institute (ALI) is a trade association of North American-based lift manufacturers. ALI's mission is to promote the safe design, construction, installation, service, inspection and use of automotive lifts. In 1947, ALI developed the first Commercial Standard covering vehicle lifts published by the National Bureau of Standards.
Currently credentialed by ANSI, and recognized by the International Accreditation Forum as an Accredited Standards Developer and a Product Certification Organization, ALI sponsors several nationally recognized automotive lift safety standards and offers a Third-Party Certification Program for automotive lift products and automotive lift inspection services provided by inspectors.
Today, ALI sponsors several national lift safety standards and offers third- party certification programs for automotive lifts and automotive lift inspectors. ALI fulfills the roles as both a Nationally Accredited Standards Developing Organization and a Nationally Accredited Product Certification Body, both credentialed by the American National Standards Institute.
Read more about the Automotive Lift Institute (ALI) trade association