Waste Oil Heaters and Boilers
How much do you really want to spend to heat your business? Here's an idea: How about $0. That's right—Nothing! Now, here's another question: Why do you pay to have waste oil removed when it's a valuable fuel for heating? That's like paying someone to drain your bank account!
It starts with the best combustion. EnergyLogic's burner meets the challenges of burning used oil and waste oil with best-in-class technology that delivers the most heat while requiring the least maintenance. Total-Tool sells and services EnergyLogic's leading brand of waste oil heaters and boilers. Learn more at the EnergyLogic site on how to save money heating your service bays or garage. You can also finance your purchase!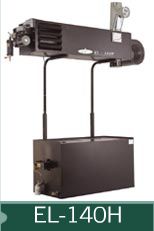 EL-140H Waste Oil Heater
Amount of Space Unit Heats: up to 3500 Square feet
Commonly Used Fuels: Used crankcase oils, ATF, hydraulic fluid, No. 2 fuel oil, and diesel fuel
Fuel Meter Pump: Precision metering over a wide range of fuels
UL Certification: UL listed system
Fuel Flow Rate: 1.0 gallons/3.78 liters per hour
BTU Input: 142,000 BTU/41.6 kW per hour
Warm Air Temp. Rise: 100-120 F/37.8-48.9 C
Air Flow: 1000 cfm/28 cu. m/min
Warm Air Outlet Dimensions
12″W x 12″H /31cm W x 31cm H
Ductible dual outlets
Air outlet can be on both sides
Primary Heat Exchanger: 18 gauge high temperature and corrosion resistant stainless steel, UL-rated at 1500 F/816 C
System Dimensions
Cabinet – 18″H x 18″W x 92″L / 46cm H x 46cm W x 234cm L
With Tank – 37.5″H x 32″W x 60″L (69″L w/pump)
95cm H x 82cm W x 153cm L (176cm L w/pump)
Hour Meter: Analog (Clocks only actual burn time, not blower)
Exhaust Flue Diameter: 8″ / 20.32cm diameter
Fuel Tank: Single wall 250 gal./946.35 liter workbench. Double wall workbench available
Electrical Req.: 115 VAC 60Hz, 25 amps dedicated circuit
Shipping Weight: System with tank – 730 lbs. / 332 kg. System without tank – 375 lbs. / 171 kg
Standard Features: Integrated Air Compressor Barometric Damper,