Pressure Washers
Pressure Washers are designed to save time and money, so it's very important that you choose the right model. Over-sized models waste cleaning power…undersized models waste time. By combining pressure, volume, heat and chemicals pressure washers can clean so much faster than manual methods (sometimes making the cleaning job go six times faster) that the labor savings alone can pay for the machine.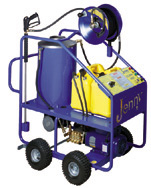 Available in six models: ELHW 1021, ELHW 1030, ELHW 1421, ELHW 1530, ELHW 2036, ELHW 2042. Call 1-800-677-8685 for which model and options are best for your shop.
Hot Water Pressure Washers
Steam Jenny Entry Level Oil Fired Hot Pressure Washers
Hot pressure washers are best suited for cleaning large areas quickly and where the type of cleaning is typically light to medium oil, gum, grease, and grime. The heated water aids in the loosening of the dirt, and when soap is added, the dirt will come free of the surface. These machines will clean heavy grease deposits and grime, but will leave a slight grease or oil residue. A good application would be a tractor-trailer. There are large areas that need to be cleaned, but the dirt is not caked on or very thick.
Standard Features
Heavy Duty, Powder Coated, Roll Cage Frame with a 5 Year Limited Warranty
Four Pnuematic Ball Bearing