Lubrication Equipment – Pumps, Hoses, Reels, Storage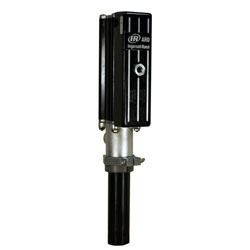 American Lube 3:1 Oil Pump
Reliable Design – Thunder pumps feature a patented, ice-free air motor contained in a rugged housing that is designed to withstand the harshest working environments. ARO is so confident in this design that it is backed by a 5-year warranty.
Lube-Free Air Motor – The air valves and the piston are pre-lubricated. Thunder pumps do not require an air line lubricator.
No Mechanical Assist – Thunder's patented valve design uses no trip rods, push pins, or springs. Instead of one mechanical pilot valve in the air motor, Thunder has two independent 3-way spool valves which work together to change the direction of the pump piston.
In-Line Service – Thunder 3:1 pumps can be serviced in the tank or drum using just a standard wrench.
Fewer Parts – Thunder pumps are constructed with 50% fewer parts than the majority of comparable pumps. Fewer parts means less problems.
Cost-Effective Design – Most competitive pumps are too costly to repair after their warranty expires. Thunder's revolutionary design, inexpensive rebuild kits, and field serviceability all add up to a pump that has the lowest cost of ownership in the lubrication equipment market.
Automatic Transmission Fluid
Gear Oil
Hydraulic Oil
Motor Oil
Synthetic Oil
Ratio . . . . . . . . . . . . . . . . . . . . . . . . . 3:1
Double-acting . . . . . . . . . . . . . . . . .Yes
Air Motor Diameter . . . . . . . . . . . . . . 2″
Stroke . . . . . . . . . . . . . . . . . . . . . . . . . 3″
Air Inlet . . . . . . . . . . . . . . . . . . . 1/4″(F)
Fluid Outlet . . . . . . . . . . . . . . . . 1/2″(F)
Fluid Inlet (stub) . . . . . . . . . . . . 3/4″(F)
Free Flow Rating . . . . . . . . . . . .9 GPM
Working Flow Rating . . . . . . . .6 GPM
Air Inlet Pressure . . . . . . . . . .0-150 PSI
Cycles Per Gallon . . . . . . . . . . . . . . .37
Noise Level @ 100 PSI . . . . . . . . 80 db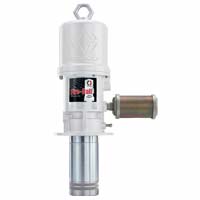 Gracco Fire-Ball 425 (3:1) – Air-Operated Piston Pump
The pump of choice for your most demanding high volume applications!
The Fire-Ball 3:1 is perfect for fluid oil transfer in high volume and longer distance applications such as truck shop service fleet facilities and in-plant applications.
Corrosion-resistant design utilizes liquid salt nitriding, nickel plating, stainless steel, aluminum and chrome on key components for longer life
Few moving parts in the air motor assembly means less downtime and low repair cost
Displacement rods have minimal wear due to a proprietary Graco manufacturing process
Large air porting design provides efficient use of compressed air supply for continuous pump operation without icing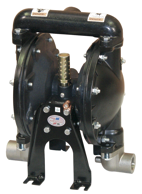 American Lube – 1/2″-2″ Diaphragm Pumps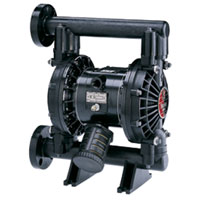 Graco Husky 1040 – Air-Operated Double Diaphragm Pump
The Husky 1040 1-inch diaphragm pump is equipped with an effective and reliable air valve system. Available in aluminum, stainless steel, acetal, polypropylene and PVDF.
1 in. (25.4 mm) ANSI end-porting
High flow – 40 gpm (151 lpm) in a compact, portable size
Fluid pressure to 120 psi (8.4 bar, 0.84 MPa)
External controller for remote control access
All Graco diaphragm pumps offer flow rates up to 25% greater than many competitive pumps with PTFE diaphragms
5-year warranty on wetted parts and 15-year warranty on center sections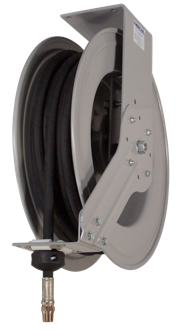 Industrial Series – Heavy-Duty Hose Reels
Enclosed Spring – Cartridge style spring motor is packed with grease and fully enclosed for extra safety. Springs are factory balanced for each size reel.
Mounting Flexibility – Multi-position guide arm is easily adjusted for ceiling, floor, wall, tank or truck mounting.
Strength Beads – Reels are constructed with strength beads for added rigidity.
Rolled-Edge – Hubs are constructed of heavy gauge steel with rolled edges for extra strength and maximum protection.
Latch Spring – Heavy-duty latch spring is designed for years of trouble-free service, and can be replaced without removing or disassembling the reel.
Self-Lubricating – 1″ double supported steel axle with 1″ self-lubricating precision bearings.
Rigid Construction – Base plate and support post are built from heavy 1/4″ plate steel to reduce flexing and fatigue.
Latch-Out Prevention – Hose reels can be installed to prevent "latch-out" or locked reel syndrome.
Hi-Flow Swivel – Load-free hi-flow swivel allows maximum product delivery, and can be replaced without removing or disassembling the reel. Swivel O-ring seals are supported by Teflon® backup rings for added durability.
Cabinet Enclosure – Reels can be mounted using a cabinet enclosure system (page 52).
Durable Finish – All Industrial Series reels are powder-coated grey for increased durability.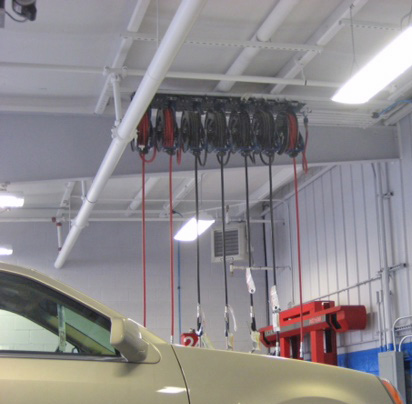 Graco SD Series Hose Reels
Professional, durable hose reels designed for daily use
Graco's new line of hose reels feature Graco durability, performance and value built into every reel. With its new metal spool and single pedestal frame, the compact SD Series is ideal for indoor and moderate outdoor use in car dealerships, light-/medium-duty truck dealers, fleet maintenance, public works garages, construction vehicle maintenance and light-utility service trucks.
Compact design easily fits in small spaces
Steel spool stands up to demanding use and applications
Can be used either as an open or enclosed reel
Flexible positioning of the guide arm for mounting on bench or ceiling, wall or utility truck
Structurally reinforced frame made from high strength steel won't bend or flex
Baked-on enamel finish protects reel from corrosion for longer life–now available in six colors!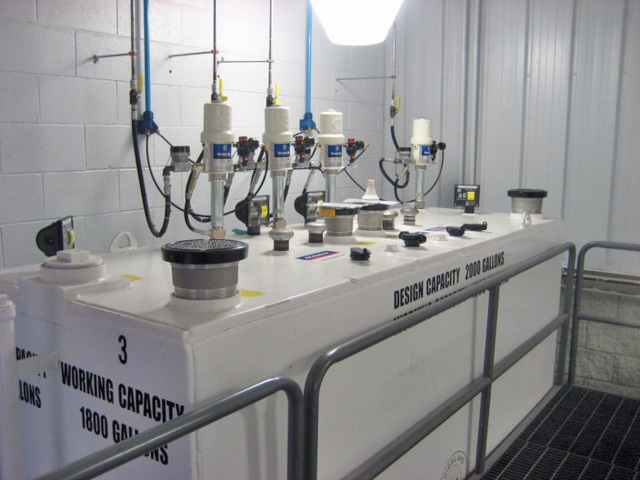 American Lube – Bulk Oil Tank Packages
Cost Effective – Tank packages eliminate the installation expense associated with equipment installations.
Simple – Remove the protective packaging, connect the air hose, fill with oil, and your customer is up and running!
Fast Delivery – Large inventory enables most packages to ship within 48 hours.
More Choices – American Lubrication offers the broadest selection of tank packages on the market.
Protective Packaging – Tank packages are covered with custom protective packaging to help protect them from shipping damage.
Enamel Paint – All tank packages come standard with an enamel painted finish.
UL 142 and N.F.P.A. 30 – All tanks are built to UL 142 and also meet the N.F.P.A. 30 specifications.
Fresh and Waste Oil Packages – American Lubrication offers single and double-wall packages for fresh oil systems and waste oil systems.