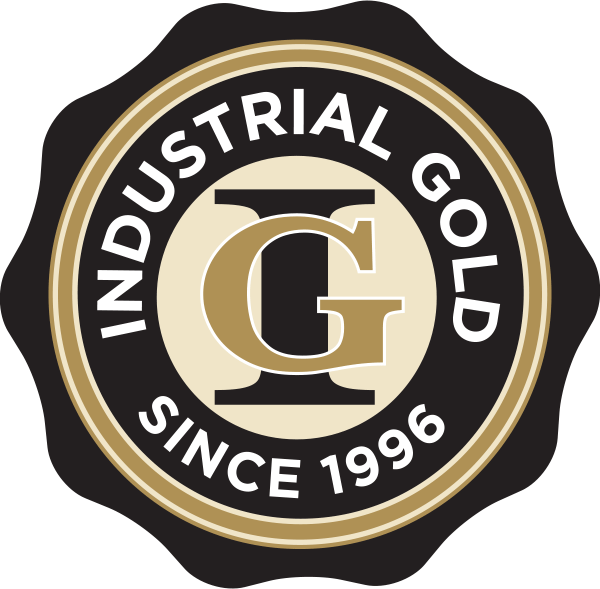 Industrial Gold Reciprocating Compressors
5-7.5 hp CA1 Basic Series
Features
 ¾ npt air outlet-for ease of installation and package maintenance
Easy to read tank pressure gauge
Centrifugal unloader-allows for more controls and fail safe head pressure bleed down after unit cycle is complete
Cast compressor inner cooler manifold-no flimsy copper pipe to break, allows for reliable day in day out compressor operation
Disk and spring compressor valves-allows for day in day out use, no flimsy reed valves to crack or break
Heavy duty steel compressor intake filter silencer- allows for noise reduction and protection of compressor filter element
Cast iron compressor discharge cooler manifold-allows for additional cooling and reliable day in day out compressor use
OSHA compressor belt guard-allows for safe use of the compressor system
Industrial grade electric motor
Common magnetic motor starter mounted and wired-allows for fast installation, ease of use and motor protection, by using a heavy duty reliable contactor
Common operational pressure switch-allows for ease of use and reliability in the field.
ASME/CRN 200PSI working pressure rated air receiver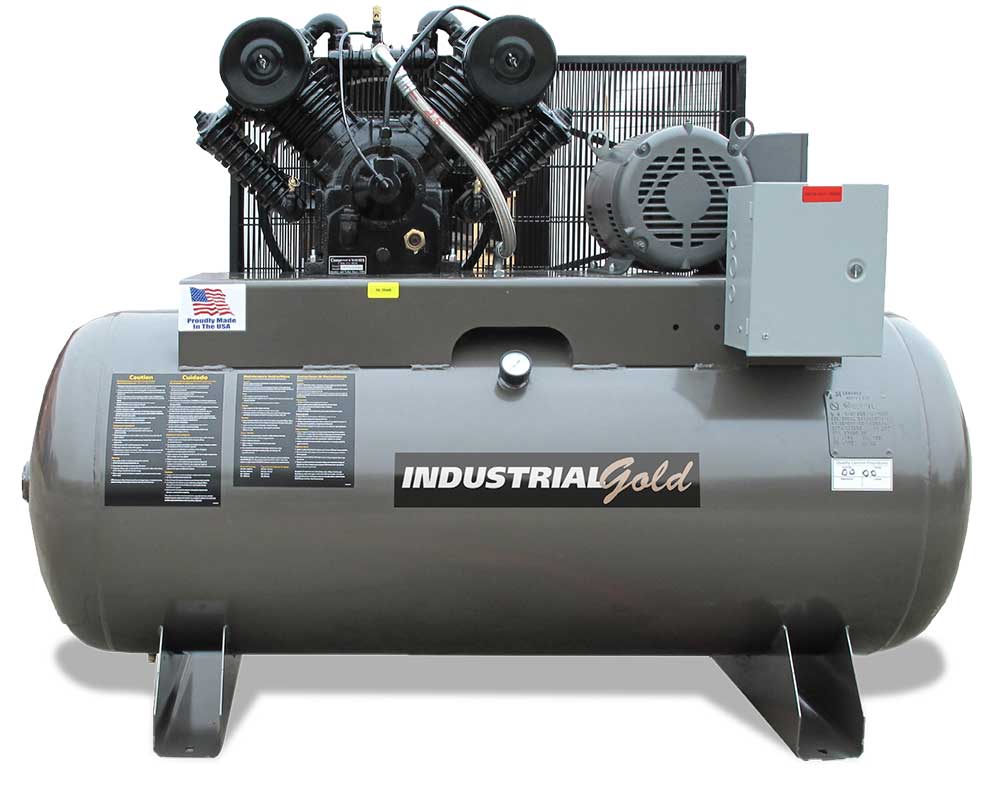 7.5-10 hp CA2 Basic Series
Features
Easy to read tank pressure gauge
Centrifugal unloader-allows for more controls and fail safe head pressure bleed down after unit cycle is complete
Cast compressor inner cooler manifold-no flimsy copper pipe to break, allows for reliable day in day out compressor operation
Disk and spring compressor valves-allows for day in day out use, no flimsy reed valves to crack or break
Heavy duty steel compressor intake filter silencer- allows for noise reduction and protection of compressor filter element
Cast iron compressor discharge cooler manifold-allows for additional cooling and reliable day in day out compressor use
OSHA compressor belt guard-allows for safe use of the compressor system
Industrial grade electric motor
Common operational pressure switch-allows for ease of use and reliability in the field.
Common magnetic motor starter mounted and wired-allows for fast installation, ease of use and motor protection, by using a heavy duty reliable contactor
¾ npt air outlet-for ease of installation and package maintenance
ASME/CRN 200PSI working pressure rated air receiver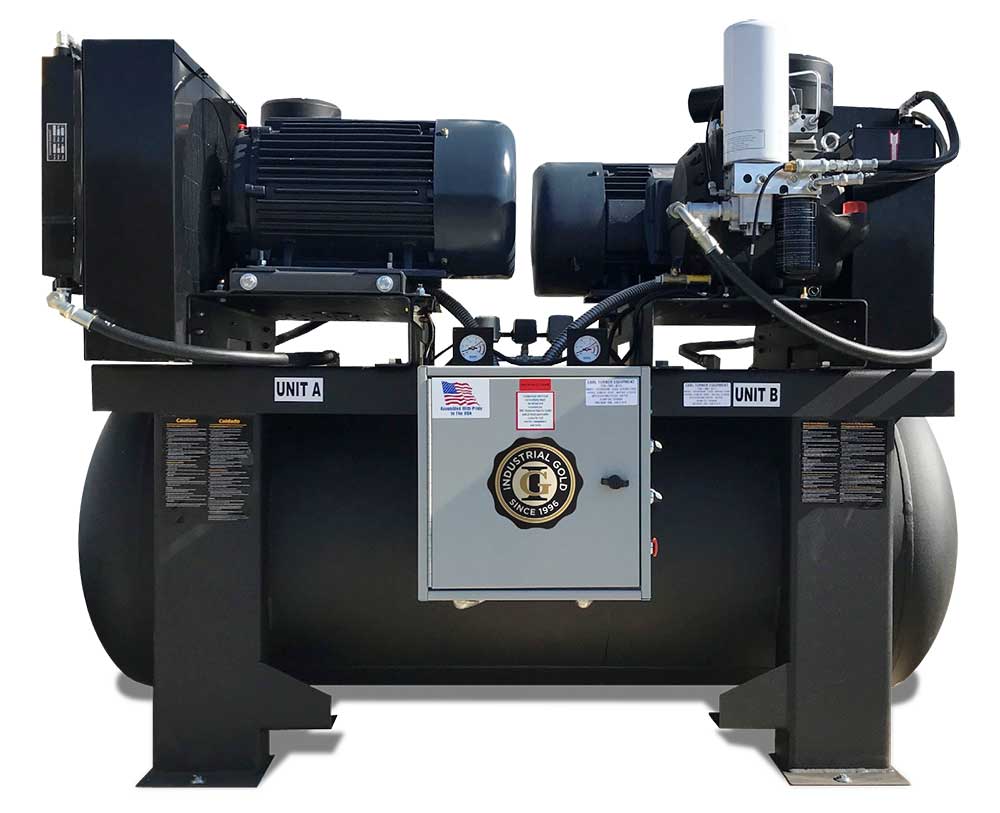 Industrial Gold Duplex Rotary Screw Compressors
15-20 HP Duplex Rotary Screw
The Industrial Gold duplex rotary screw compressor is the most reliable and efficient way to provide air to your facility manufactured today. While
one compressor runs as the lead compressor the other compressor only comes on to trim the system and ensure the air is there when you need it.
The secondary unit will turn itself off once the air demand drops saving you every month on your electricity bill.
Features
Automatic tank drain- the compressor tank is drained daily for you
Vibration isolation pads- saves wear and tear on the tank and make installation easier, reduces vibration & noise
Simple load/unload operation- compressor controls are reliable with common components (no computer systems to fail, or proprietary parts)
Easy access air filter-cuts down on maintenance time lowering cost of ownership
Industrial grade electric motor
Easy access spin on separator-cuts down on maintenance time lowering cost of ownership
Single common solenoid control-for easy maintenance and operation and lower cost of ownership
Cooling fan on drive motor shaft-for easy maintenance and reliability (no separate fan motor or contactor to fail)
Air/Oil cooler mounted on the outside of the belt guard-for easy maintenance and lower cost of ownership
Encapsulated airend-allows for a smaller foot print and lower total oil capacity and lower cost of ownership (saves on yearly maintenance cost)
Easy access oil filter-cuts down on maintenance time, lowering cost of ownership
Easy access oil drain-cuts down on maintenance time, lowering cost of ownership
Compressor tank ASME/CRN powder coated 200 psi working pressure rated
Compressor control panel UL cUL 508/508A certified on request
Standard common motor contactor-for reliability and ease of maintenance (no computer system to fail)
Easy access operational controls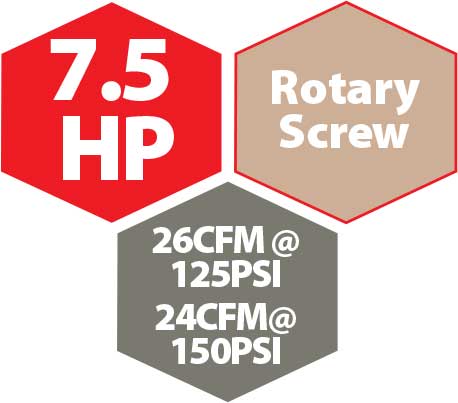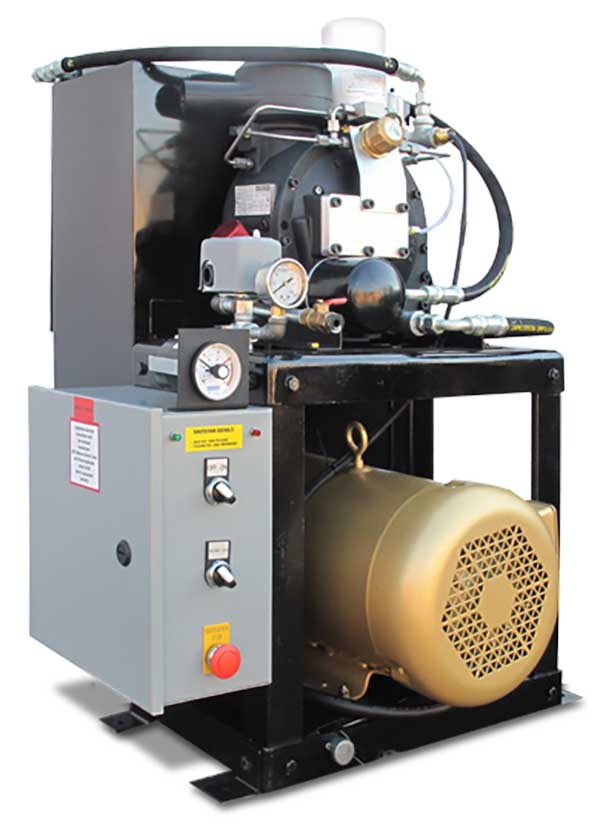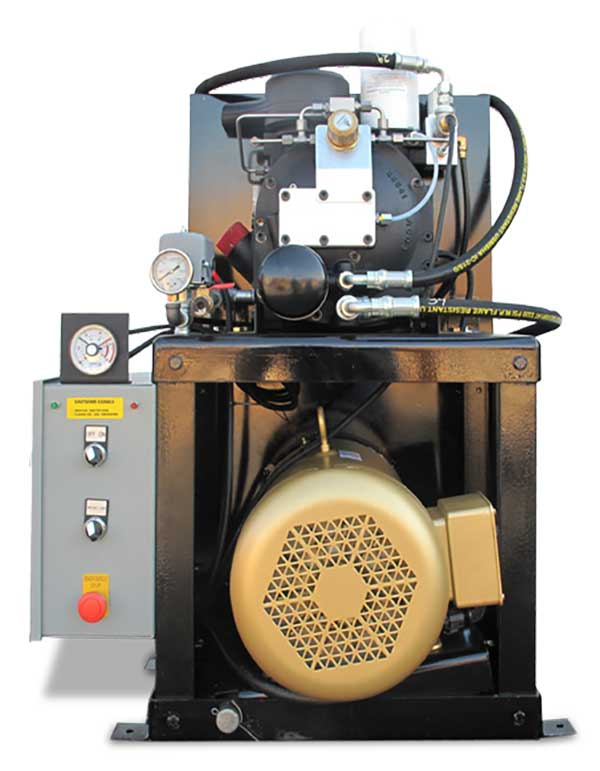 Industrial Gold Cube Air System Industrial Air Compressors
 Basic Compressor Features: 
Maximum operating pressure up to 190psi (Standard max operating pressure 150psi)
Low tip speed on airend for long life
Less than 3ppm oil carry over
Single solenoid operation
Spin on separator
Spin on oil filter
Air/Oil Cooler
Vibration isolation pads
8000hr full synthetic fluid
Analog easy to use controls
Heavy duty air filter
Self tensioning drive belt system
10 minute timed shut down for electrical savings
Minimal floor space foot print
Industrial duty electric drive motor
EZ access belt guard
High air temperature sensor
High oil temperature sensor
High pressure sensor
CDR Compressor Features: 
All basic features
Air receiver
Refrigerated air dryer
Vibration mounting pads
Receiver safety valve
Receiver gauge
Receiver manual tank drain
 Optional Package Features: 
TEFC drive motor
Class 1 Division 2 Drive Motor
NEMA 4 Controls
NEMA 4X Controls
NEMA 7 Controls
Soft Start control starter
Variable Frequency drive control
Multiplex control panel capabilities
Quick install kit (5-15hp)Includes 8ft electrical cord with plug, 6ft compressor to tank air line, JIC connection fittings, anchor mounting bolts
Electronic automatic tank drain kitDrain shipped loose for installation. Kit includes- ¼ pipe nipple street 90, ¼ pipe 6 inch nipple, drain
30, 60, 80, 120 gallon, 200psi MWP ASME, CRN tank
Enrollment in factory extended service program
Enrollment in factory extended warranty program
Sound dampening enclosure
Refrigerated air dryer
Desiccant air dryer
Coalescing filtration
Particulate filtration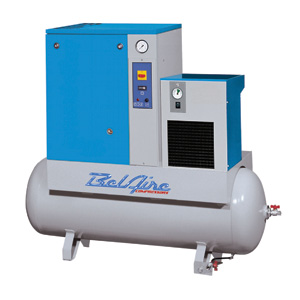 Belaire Reciprocating Air Compressors
BELAIRE
TWO STAGE ELECTRIC DUPLEX COMPRESSORS 10 TO 20 HP
GREAT PERFORMANCE AND VALUE
The BelAire duplex compressors are available up to 20 HP and can deliver up to 50.50 acfm on single phase power. BelAire duplex compressors feature two pumps and motors, along with an alternator which ensures optimal performance. BelAire Two Stage compressors come with a full 2 Year Warranty (including valves).

FEATURES:
Alternator
Magnetic Motor Starters
Start-Stop Dual Pressure Switch Control
1" Tank Discharge Valve
Fully Enclosed Belt Guard
ASME Tank and Safety Valves
BelAire Duplex package showing the multiple pumps and motors which ensure back-up operation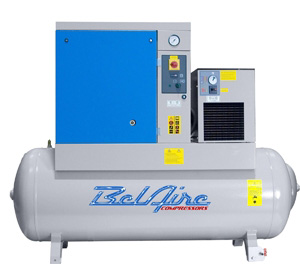 Belaire Rotary Screw Air Compressors
BELAIRE BELT DRIVE ROTARY SCREW AIR COMPRESSORS 5 TO 15
THE QUIET COMPRESSED AIR SYSTEM
Ideal for automotive repair and body shops, the BelAire rotary screw compressors allow for 100% duty in a extremely quiet, user friendly package. line of rotary screw compressors are built to provide reliable and efficient compressed air in a compact design.
FEATURES:
Low Sound Enclosure
150 psig Standard (125 psig available 10-15 hp)
Continuous Operating Capability
Space Saving Design,
Across-The-Line Motor Starter
ASME/CRN Receiver Tank (5 – 7.5HP – 60 Gal, 10 – 15HP – 120 Gal)
Tri-Voltage, TEFC Motor
UL and UL-C Approved Control Panel
[wpdatatable id=1]
Notes:
1. 230v single phase models available in 5 and 7.5 horsepower.
2. BR5 – 15 tri-voltage 3-phase motors and starters can be installed in 208, 230, 460, or 575v power supply.
3. BR shipped with factory fill of lubricant suitable for 4,000 hours operation in clean environment.