Rotary MCH19 FLEX Mobile Lifting System
Perfect solution for Mid & Heavy Duty Vehicles (18,000 lbs.)
FASTER, EASIER, MORE POWERFUL, MACH FLEX™Red Fire gives you the ultimate in lifting versatility, mobility and flexibility! Exclusive software means no more cords, keys, or chips. Two, four, six or eight column configurations can accomodate heavy duty vehicles up to 150,400 pounds!
Rotary's versatile, remote-controlled, mobile lifting system gives you the power and mobility to make service repairs anywhere in your shop.
FASTER SET UP AND OPERATION
MachFlex RemoteTechnicians simply follow control commands. Not having to wait at each column to sync before moving to the next column saves critical set up time. Remote control auto detects and connects when communicating to the columns. Give your techs the ability to move around and ensure all is well with the vehicle being lifted. The auto resume feature mean you're in the bay and up with even more time to spare.
In Stock and Ready for Delivery!
Rotary MCHF14 Flex Mobile Lifting System
Perfect solution for Mid & Heavy Duty Vehicles (14,000 lbs.)
Rotary's MACH FLEX 14 mobile column lift give you the option of not being tied to a bay. Get the job done where ever you have the space. Our easy to use design give your technician the control from any column. Our forklift pockets provide a convenient way to relocate columns within your shop. Included with every lift, they are clearly labeled for easy handling. Easy to move adjustable forks improve set up time without the need for reducer sleeves. Adjustment range is 6.3″ to 23.6″ to accommodate approximate tire sizes 9″ to 24″.
Powered by RedFire™
Wireless Remote Controlled System
(4) mobile columns accomodating heavy duty trucks and light duty passenger vehicles
Control all columns from anywhere in the bay
Includes LockLight™ on each column
Easy to move adjustable forks
Vehicle Height and Weight Digital Display Gauges
ALI Gold Certified (MCHF214U1A00)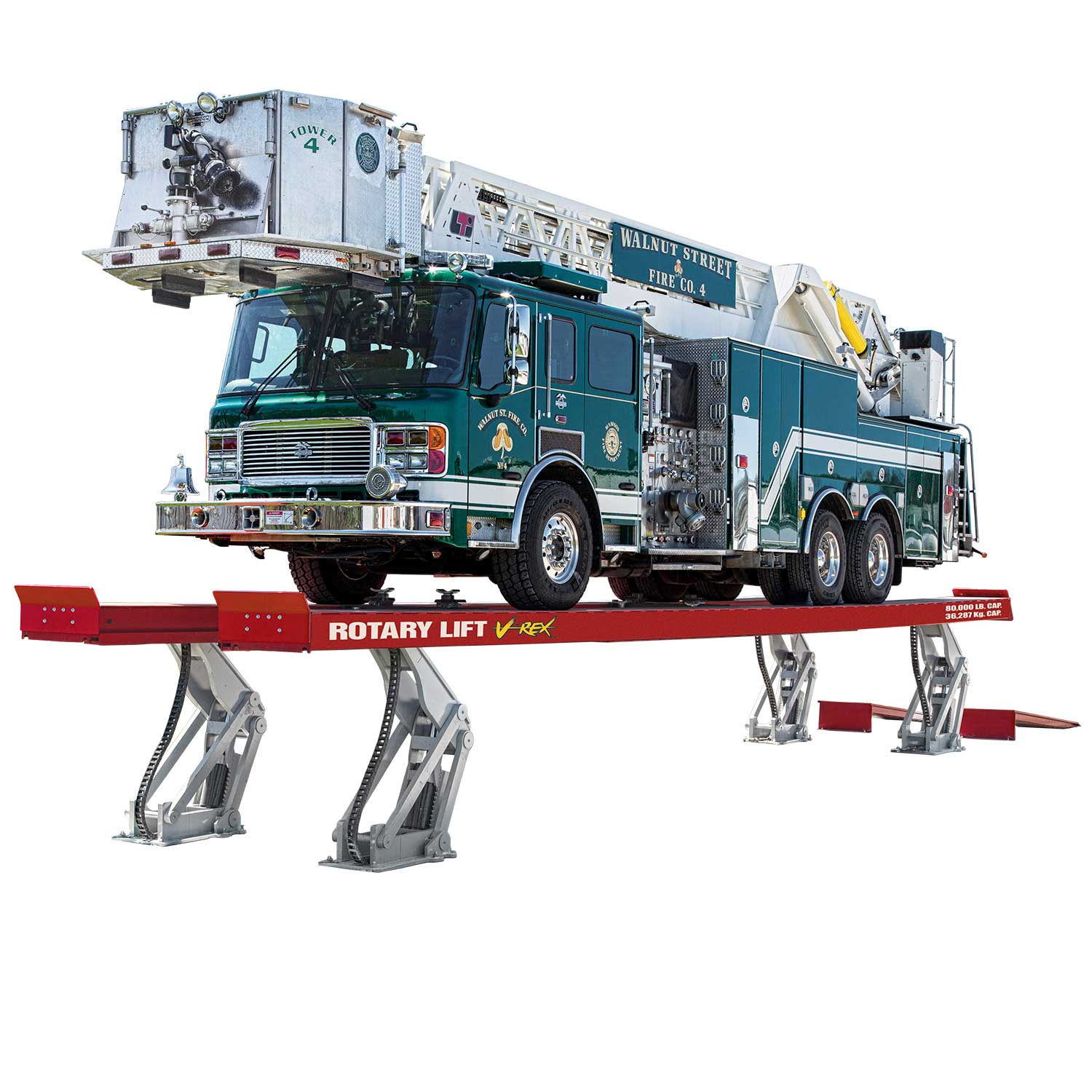 V-REX | Vertical Rise HD Platform Scissor Lift
V-REX — 44,000 – 80,000 lbs
Heavy Duty Vertical Productivity!
Microprocessor controlled equalization
Rotational hinged positive force leg design
Surface or flush installation
77 inch vertical rise
Tubular torque box platform design with little deflection when loaded
ALI Gold Certified (VRX80-48X)
VREX Logo The V-REX is a vertical rise platform scissor lift that offers clear spans of space in and around a massive lifting structure. With capacities between 44,000 pounds and 80,000 pounds this lift is designed to pick up large trucks, heavy equipment and anything else you can think to drive on it, like FIRE TRUCKS filled with water! (within the rated capacity).The clear span design gives you ultimate clearance around the lift, while the specially designed platforms are engineered with the industry's lowest deflection rates. A brand new leg design manages all this heavy lifting on rotational hinge links. Limited sliding components and heavy-duty bearings ensure a long lift life. These same legs move in a rotational fashion optimizing the efficiency while providing strength.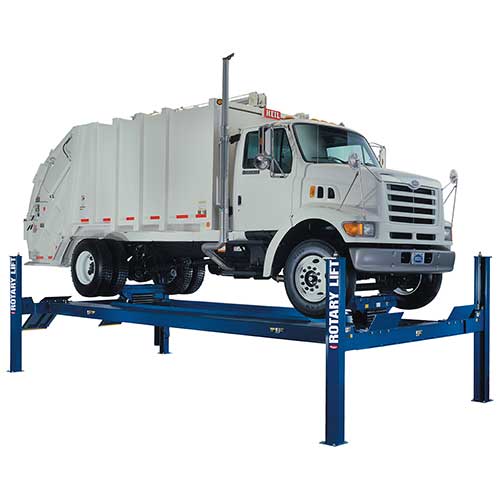 SM30 — 30,000 lbs.
Versatility: it's the standard to which Rotary Lift's four-post lifts are built. These lifts handle cars, vans, trucks – even light and medium duty commercial vehicles with ease. If you service a wide variety of vehicles, Rotary four-post lifts are the right choice for maximum productivity.
Cylinder located under the runway
Dual function Sentinel Lock™ System
Internal airline
Adjustable latch bars
ALI Gold Certified (SM30N0-X)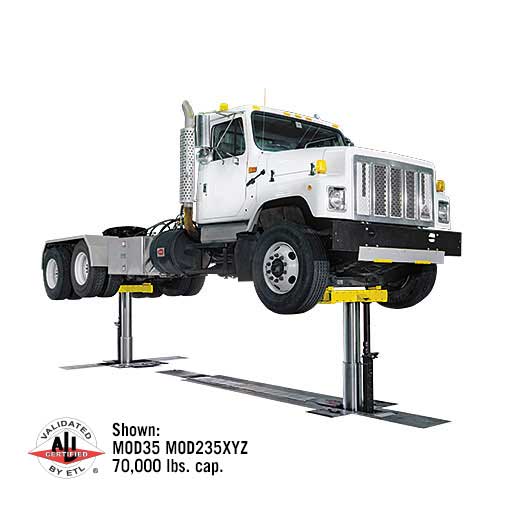 MOD35 Flex™ Inground Modular Lift
MOD35 Flex™ — 70,000-10