QuickJack Portable Automotive Lifts
It's time for a change. It's time for QuickJack. QuickJack car lift systems are your go-anywhere, stow-anywhere automotive lifting solution. Whether at the track or in the garage, the QuickJack helps you get your car in the air quicker and safer than traditional jacks and ramps.
With simple push-button operation, almost any car DIY enthusiast can operate the QuickJack. Simply position the platforms beneath the vehicle, line up the rubber pads and hit the button. Once the locks are in place, you're good to go. QuickJack portable car lifts work for almost all consumer vehicles. But if you have any questions, our knowledgeable experts will be happy to help you choose the QuickJack garage lift that's right for you.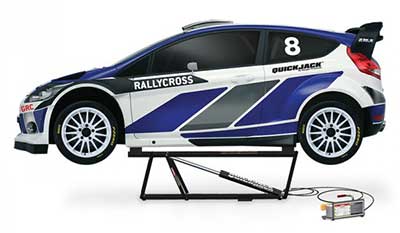 BL-3500SLX Car Lift
BL-3500SLX Portable Car Lifting System
Less labor and more love. The QuickJack BL-3500SLX light-weight portable car lifting system will change everything about how you maintain your vehicles. Say goodbye to ramps and flimsy jacks–with the QuickJack BL-3500SLX, you can get your vehicle in the air in literally seconds.
The BL-3500SLX has a maximum lifting capacity of 3,500-lb. But its true strength is that you can take it with you. The QuickJack is so light-weight and space-efficient that you can transport it in your regular sized trunk or backseat. It also takes seconds to get up and running following initial one-time assembly. Just drop it on the ground and hook-up the power. As soon as the jack frames and rubber blocks are in place under your vehicle, it'll be at a work-ready height in no time at all. It's really that easy.
At a super-low profile of three inches, the QuickJack garage lift fits where other jacks only dream. And because there aren't any cross members to worry about with this portable garage lift, you can tailor the platform spacing perfectly to nearly any vehicle.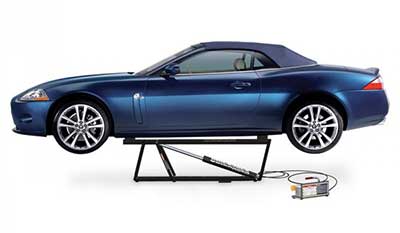 BL-5000SLX Car Lift
BL-5000SLX Portable Car Lifting System
Meet your new best friend in the garage and at the track. The QuickJack BL-5000SLX portable car lifting system revolutionizes the way you get your car in the air. No more struggling with ramps and jacks. With the QuickJack BL-5000SLX under your car, you can be maintenance ready in mere seconds.
The BL-5000SLX is a true 5,000-lb. capacity automotive lift, made from the same materials you'll find in a professional shop or garage. But the key difference is, you can take the BL-5000SLX with you almost anywhere. Toss it in the trunk or backseat when you're on the move, and stow it away in a corner when you're not. After initial one-time assembly, setting up your QuickJack is a snap. Just drop it on the floor and connect the power. Then position the light-weight jack frames and rubber blocks beneath your vehicle. That's it. Press the up button and go!
With a three inch collapsed height, the QuickJack can get in where other jacks only wish they could. And without any cross members, you can match frame positions to almost any vehicle width.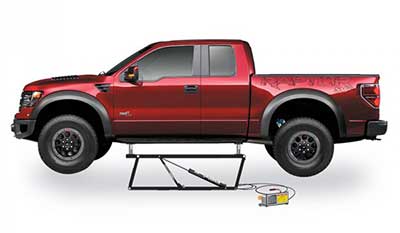 BL-7000SLX Car Lift
BL-7000SLX Portable Car Lifting System
Meet the latest and greatest QuickJack, the BL-7000SLX extreme-duty portable car lifting system. No more fiddling with jacks and ramps for your big vehicles. The game changes the moment your QuickJack hits the garage floor. With the QuickJack BL-7000SLX, you can go from floor to air in a mere matter of seconds. Get your tools ready. They're about to get a workout.
The BL-7000SLX is a real 7,000-lb. capacity automotive lift, designed, engineered and manufactured by the same people who make traditional style car lifts and truck lifts found in shops and garages around the world. But with one key distinction that changes everything. The BL-7000SLX is designed to be taken anywhere. No bolts. No wiring. Just two ramps, a power source and a whole lot of potential. Throw it in the trunk, backseat or truck bed when you need lifting power to go. And store the space-saving frame almost anywhere when not in use. After the initial setup, getting your car or truck up to a comfortable working height takes seconds. Just place the ramps on the floor, connect the power, position the frames and rubber blocks. And you're 100% ready to begin work.
With a whisper thin three-inch collapsed profile, the QuickJack can fit where almost no other lifting system can. Plus, with the added benefit of no cross beams, you can match your QuickJack portable lifting system to just about any vehicle like a fingerprint.