Lifts for Home Vehicle Storage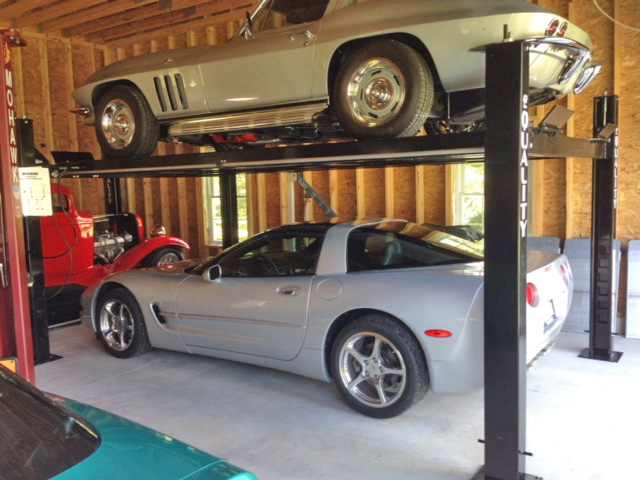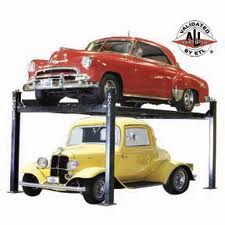 Quality Lifts Brand, Model #Q4P07
7,000 lb. Capacity Home Vehicle Storage
Quality Lifts' 7,000 lbs. capacity Q4P07 4-post home vehicle storage lifts are perfect for light duty commercial service or storage applications. Quality Lifts 7,000 lb. four post lift and commercial service lift were designed for environments with limited space. The Q4P07 4 post lift is perfect for a home garage with tight space constraints. Visit the Quality site for complete specs on home storage vehicle lifts.
Simply the Best Car Lift for the Money
Utilizes Our Commercial Grade Design
Manual Locks – No Air Required
Free Standing or Bolt-down Option. Portable with Q4P09CS Caster Set
Formed Runways with Rail System. Supports Optional Rolling Jack, QRJ04H Rolling Jack, Q4P09JT Jack Tray, or Q4P09DT Drip Tray Set
Single Hydraulic Cylinder
Commercial Grade cables – 3/8″
Adjustable Internal Lock System
Secondary Lock Mechanism
Full Size Columns – No Exposed Cables
Oversized Slider Blocks for Smooth Operation and Stability
Rise height underneath runway – 63″
Outside to Outside Columns – 100″
Overall length (with ramps) – 195 1/2″ (2/o ramps) 165″
Inside columns – 92″
Height of columns – 79 1/2″
Width of runways – 20″
Height of Runway – 4″
Width between runways – 38″
Length of runways – 150″
Detachable aluminum approach ramp length – 36″
13 lock positions
Pre-assembled Lock Mechanism
1HP 110 Volt Plug-in or 220v Power
Powder Coat Paint: Blue and Black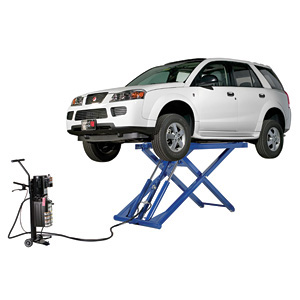 Quality Lifts QMR6: Portable Mid-Rise Scissor Lift
6,000 lb. Capacity Mid-Rise Lift
Quality Lifts' portable mid-rise car lifts are a great way to increase the productivity in a shop. Its portable feature makes the QMR6 like having a service bay anywhere, indoors or out. The motor for the QMR6 is conveniently mounted to a heavy-duty tow dolly, making it easy to move and operate on almost any solid surface. View complete specs on the QMR6.
Portable mid-rise lift with Heavy-Duty tow dolly provides flexibility to service vehicles anywhere inside or out
7 locking positions allow technician to work at an ergonomic height to increase productivity and minimize fatigue
Electric motor mounted on tow dolly provides ease of maneuverability
Slip-on rubber pad adapter kit with height extension accommodates high profile vehicles
Sliding/rotating arm design accommodates reaching pick-up points on a wider range of vehicles.