Automotive Jacks / Jack Stands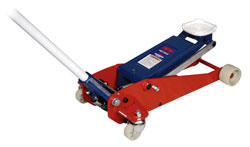 Angular Pump Piston Feature
U.S. Patent No. D483,169 & 7,036,796 B2
2 TON CAPACITY FLOOR JACK
INTENDED USE:
A heavy-duty professional quality floor jack designed for a variety of automotive shop uses including the day-to-day rigors of the tire changing industry.
FEATURES:
Fast acting pump raises jack to maximum height in 10-1/2 incremental pump strokes. Not only lifts fast to the load but lifts load fast.
Angular pump piston provides efficient stroke no matter how far under the vehicle the jack is positioned.
Nylon front and rear wheels to protect sealed floor surfaces and dealer showrooms.
Thick steel side plates provide increased frame strength.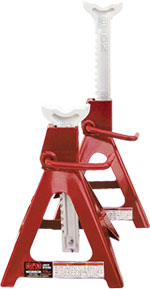 6 TON CAPACITY JACK STANDS
INTENDED USE:
For automotive use where vehicle is to be supported before making repairs.
ALL STANDS ARE SOLD AND INTENDED TO BE USED IN PAIRS.
FEATURES:
U.S. Patent No. 5180131 spring loaded pawl provides constant locking pressure against lifting column.
Four legged base with foot pads for added strength and a more secure footing on asphalt.
Common machine bolt secures lifting column to stand and provides added strength when stand is continuously lifted and handled by the column.
Positive lock handle cannot be disengaged until load is off the saddle column. Lock handle can be used as a carrying handle.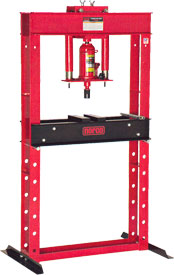 20 TON CAPACITY HAND PUMP OPERATED SHOP PRESS
INTENDED USE:
Straightening, bending and pressing. Removing and installing gears, and bearings.
FEATURES:
Manual pump power unit with "Parkerized" pump piston, ram and extension screw to inhibit rust from entering the hydraulic system.
Pair of bed plates included.
Shielded heavy-duty ram return springs.
Power unit is bearing mounted for horizontal movement on head channel.
Zero distortion, heavy-duty structural steel frame bushings.
Hunter Rolling Swing Air Jacks
Hunter's Rolling Swing Air Jacks add capabilities for lifting vehicles off the runways during alignment procedures and other multi-service operations. Proven over decades of use, swing air jacks are engineered to handle a wide variety of vehicles and provide easy, low-maintenance service.