Automotive Jacks / Jack Stands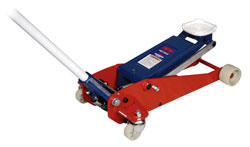 Angular Pump Piston Feature
U.S. Patent No. D483,169 & 7,036,796 B2
2 TON CAPACITY FLOOR JACK
INTENDED USE:
A heavy-duty professional quality floor jack designed for a variety of automotive shop uses including the day-to-day rigors of the tire changing industry.
FEATURES:
Fast acting pump raises jack to maximum height in 10-1/2 incremental pump strokes. Not only lifts fast to the load but lifts load fast.
Angular pump piston provides efficient stroke no matter how far under the vehicle the jack is positioned.
Nylon front and rear wheels to protect sealed floor surfaces and dealer showrooms.
Thick steel side plates provide increased frame strength.